Griddles are increasingly becoming popular in many households due to their versatility. You can cook just about anything on this kitchen tool.
Many of us use griddles occasionally for breakfast pancakes, eggs, and bacon. As a result, they sit idle for a long time, gathering dust. Besides breakfast recipes, you can prepare various outdoor and dinner recipes on your grill.
What to Cook on a Griddle
You can cook various dishes on a griddle, including banana and apple cinnamon pancakes, grilled vegetables, grilled cheese sandwiches, quick-griddled chicken, and griddle-seared chicken. You can also cook French toast, bacon, naan bread, cheesesteak, etc.
Our Favorite Griddle Recipes
Banana Pancakes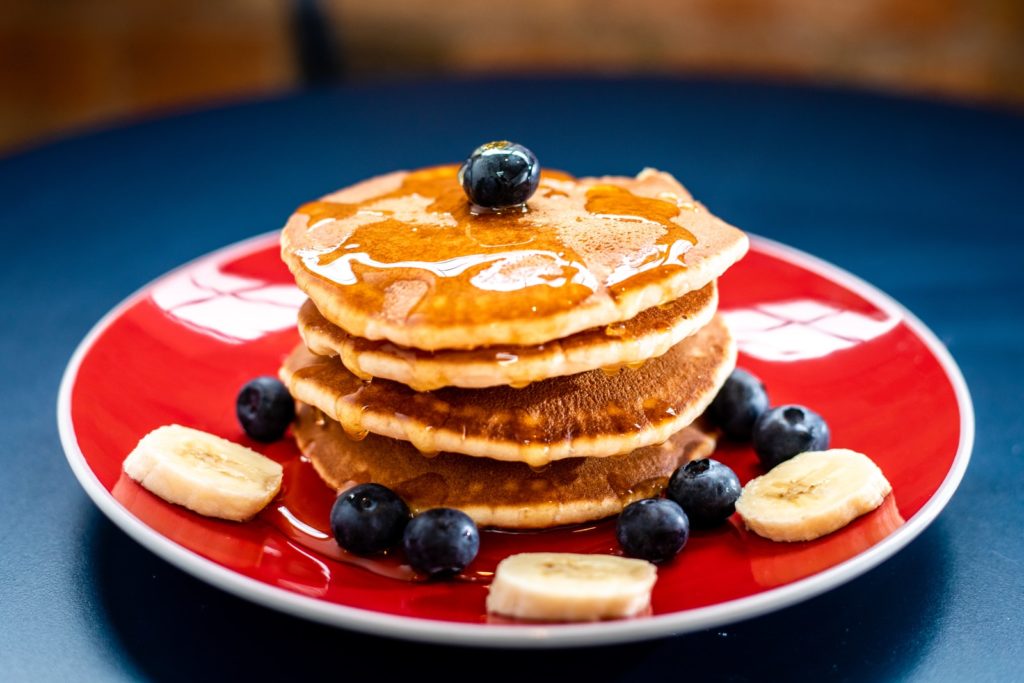 There is something special and homely about banana pancakes. They are easy to make, especially on weekends and for loved ones. Banana pancakes are also highly nutritious.
Ingredients
One and a half cups of all-purpose flour (leveled)
1 medium ripe banana
1/2 teaspoon salt
2 tablespoons sugar
1/4 teaspoon ground cinnamon
1/4 teaspoon ground nutmeg
 2 large eggs
1 cup buttermilk
2 teaspoons baking powder
 3 tablespoons melted butter
1/4 cup vegetable oil
1/2 teaspoon pure vanilla extract
Extra unsalted butter for cooking
Procedure
Whisk the flour, cinnamon, nutmeg, sugar, salt, and baking powder in a medium bowl. Set them aside.
In a separate bowl, mash the banana with a fork until smooth. Take another small bowl and whisk the buttermilk, eggs, and vanilla extract. Then add the mashed bananas.
Combine the flour mixture, banana mixture, and melted butter. You can blend lightly or hand-mix to get a thick, lumpy mixture.
Preheat your griddle and set it on medium heat. Add a pat of butter and one tablespoon of vegetable oil to the hot grill. Swirl to mix.
Measure a quarter cupful of the pancake mixture and pour each at a time on the griddle. Leave a gap of 2 inches between the pancake. Cook for about two minutes or until the bubble-like holes form on the top and the underside is golden brown.
Flip your pancakes and cook until the top puffs and the bottom gets golden brown. Remove the pancakes from the griddle to a serving plate using a spatula.
If you have some remaining pancake batter, wipe the griddle with paper towels, add some oil and butter and repeat the same process.
Apple Cinnamon Pancakes
Do you want a healthier breakfast delicacy? Apple cinnamon pancakes are the way to go. You can eat them as often as possible without any guilt or fear of gaining unwanted pounds.
Ingredients
1/2 cup egg whites
1/2 cup oats
1/3 of a large chopped apple
1/4 cup unsweetened almond milk
1 teaspoon ground cinnamon
1 tablespoon ground flax seeds
A packet of stevia
A pinch of salt
Procedure
Blend all the ingredients together to form a creamy batter.
Preheat your grill and pour in a little of your preferred oil.
Pour sizeable amounts of the batter on the hot griddle, leaving a 2-inch space between them.
Cook until the underside is golden brown and the top begins to bubble.
Flip and cook for another minute or two, and your pancakes are ready.
Serve and enjoy! You can top them up with honey or your preferred syrup.
Quick-Griddled Chicken with Herbs
This recipe is perfect for dinner on weekdays or weekends. It takes less than 30 minutes to get ready! Only be careful not to overcook it.
Ingredients
3 to 4 boneless, skinless chicken breasts cut in halves (2 ½ pounds)
1 tablespoon dried mixed herbs or 2 tablespoons minced fresh herbs (you can mix thyme, tarragon, and oregano).
1 teaspoon sweet paprika or espelette pepper
1 1/2 teaspoon kosher or coarse salt
1/2 teaspoon ground sage or 1 teaspoon minced fresh sage
 Sprigs of fresh herbs
1 tablespoon oil (preferably canola or sunflower)
1 or 2 tablespoons butter (cut into small bits) or extra-virgin olive oil
Procedure
Pat the chicken dry with a clean paper towel
Remove the tenders from the underside of the chicken breasts and put them aside.
Take one-half of the chicken breast and place it on the cutting board. Slice the chicken horizontally, starting from the thickest side to the other side.
Open the chicken like a butterfly or book and cover it with plastic wrap. Pound uniformly to about 1/2 inch thick. You can then cut it in half (optional) and place it on a baking sheet. Repeat this process with the remaining chicken breasts.
In a separate dish, mix the herbs, pepper, and salt.
Sprinkle the mixture on the chicken, covering both sides.
Let it rest on the counter for about 30 minutes. But if you want to cook it later, cover it loosely and refrigerate for up to a day.
Heat your grill over high heat. A drop of water should sizzle in contact with the hot surface.
Turn on the exhaust fan and reduce the griddle heat to medium-high.
Add oil to the cooktop and immediately place your chicken. Ensure that there is enough space between the pieces and that the surface is not overcrowded. You can cook in batches if necessary.
Allow the chicken to cook for about 4 minutes without turning until it is golden brown.
Flip the chicken with tongs or a spatula and cook the second side for about 3 minutes.
Once ready, remove the chicken from the cooktop to a plate
Season the top with bits of butter or sprinkle some extra-virgin olive oil
Garnish with herbs and enjoy
Note:
Cooking chicken with olive oil makes it tastier and is healthier than using vegetable oils. Ensure that the chicken is thoroughly cooked. 
Bacon and Jarlsberg Grilled Cheese Sandwich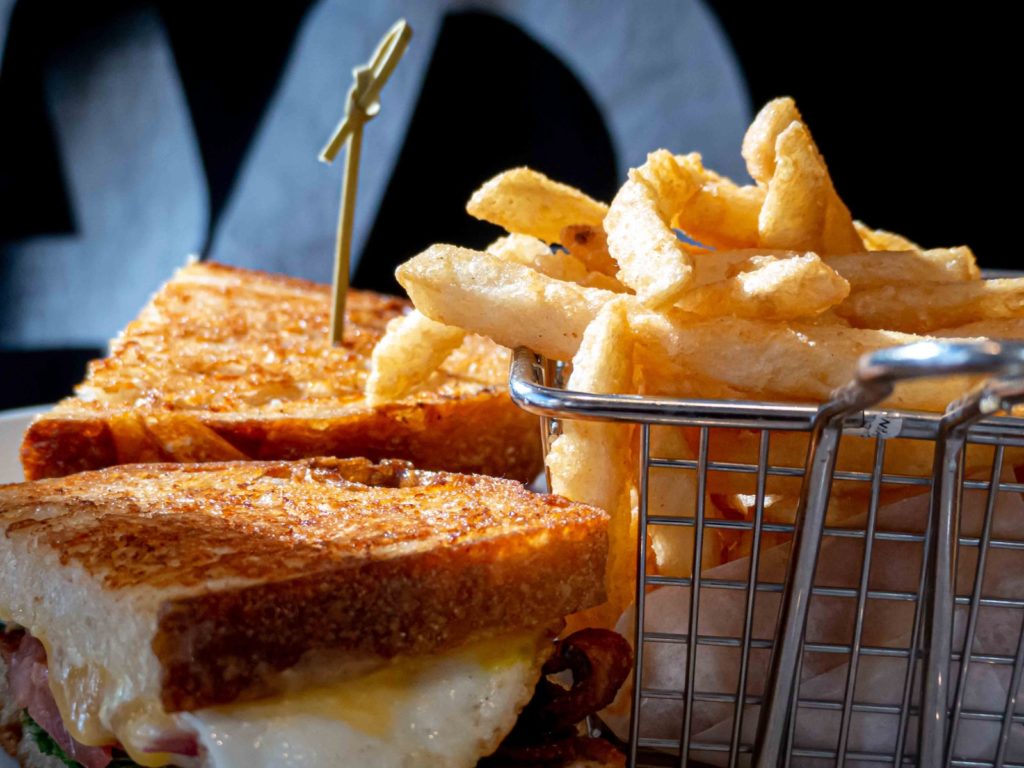 Making a grilled cheese sandwich is incredibly easy and quick. Find a cheese that melts faster and uniformly (Jarlsberg is ideal). Also, find a bacon bread/ buns that work well on a hot griddle and some bacon topping.
Ingredients
2 slices sourdough bread (whole-wheat or regular)
5 slices bacon
 4 slices Jarlsberg
1 tablespoon oil
Procedure
Heat up your griddle over medium heat.
Rub a little oil on the griddle surface and place the bacon
Cook until it gets crispy on both sides
Place the cheese on the bacon a few seconds before taking it off the griddle to allow it to melt.
Toast the bread or buns on the cooktop to brown
Now place the bacon with melted cheese in between the two slices of bread
Enjoy your grilled cheese sandwich.
Philly Cheese Steak
You can never get enough of a well-prepared Philly cheese steak. It is easy to make and does not require a lot of ingredients.
Instead of using bread, you will need large hot dog buns to make this sandwich.
Ingredients
 2 Ball Park large hot dog buns
1/2-pound roast beef
Extra virgin olive oil (for grilling)
1 White onion, thinly sliced
 2 teaspoons garlic, minced
1/2-pound Provolone cheese, thinly sliced
Salt and pepper to taste
1 green bell pepper, thinly sliced (optional)
Marinara sauce (optional)
Procedure
Fire up your griddle over medium-high heat.
Coat the cooktop with a thin layer of olive oil
Toast the buns and set them aside
Add the onions and bell pepper, and stir until they caramelize. Then add salt, pepper, and garlic. Push the vegetable mixture to a cooler side of the griddle.
Add your meat to the hot part of the griddle, and cook as you stir until it breaks down slightly and stops sticking on the cooktop. Continue cooking until it's ready.
Mix the meat with the caramelized vegetables and divide it into two portions. Add cheese on top of each part.
Place the meatballs with cheese in the hot dog buns. You can then top with the marinara sauce or even ketchup.
French Toast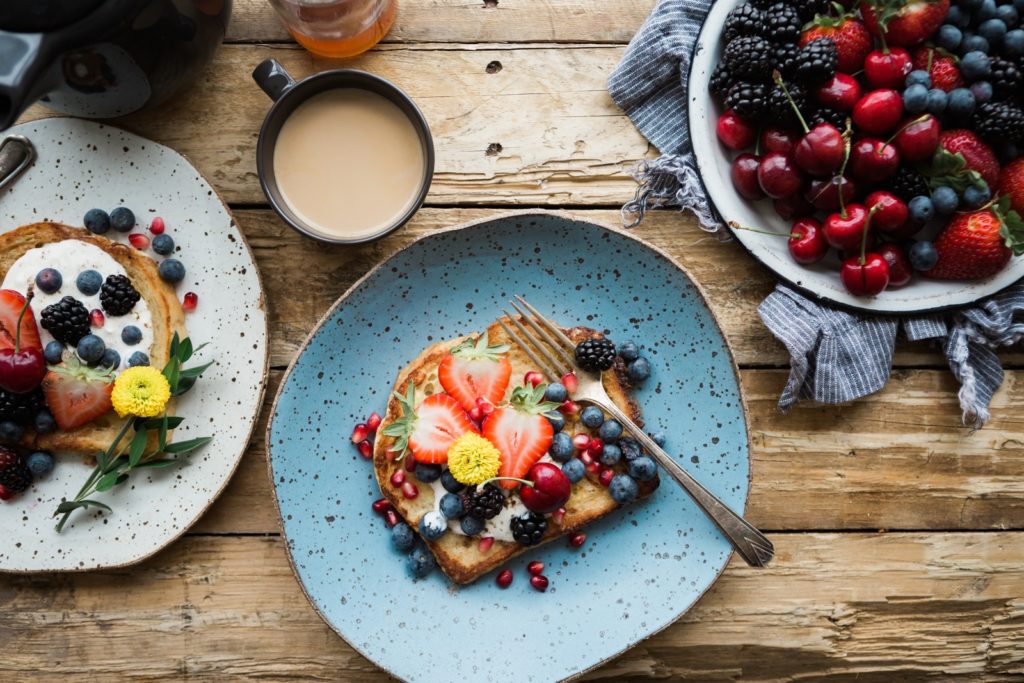 French toast cooks better on a grill than on a frying pan. The large cooking surface of a grill allows you to make as many pieces as possible at once.
Cooking French toast in butter is tastier than using sunflower oil or other vegetable oils.
Challah French Toast Recipe
Challah bread makes perfect French toast because of its buttery flavor and spongey texture. You can either use the long braided challah loaf or the round loaf.
Ingredients
1 loaf of challah bread, cut into 1/2-inch-thick slices (about 6)
8 medium eggs
1 tablespoon butter
4 tablespoons milk
1/2 teaspoon sugar
A pinch of confectioners' sugar
1 teaspoon cinnamon
1/4 teaspoon ground mace
A pinch of anise seed
Procedure
Whisk the milk, eggs, and spices together to form a frothy texture
Melt half of the butter in the griddle
Briefly soak the bread in the egg mixture, ensuring that both sides are covered.
Shake off the extra fluid from the pieces of bread and place them on a hot grill
Cook over medium heat for about 4 to 5 minutes until both sides become golden brown
Remove from the griddle and dust with confectioners' sugar. You can also top it with pure/real maple syrup.
Serve with your preferred fruits or berries.
Healthy Griddle Recipes
Grilled Vegetables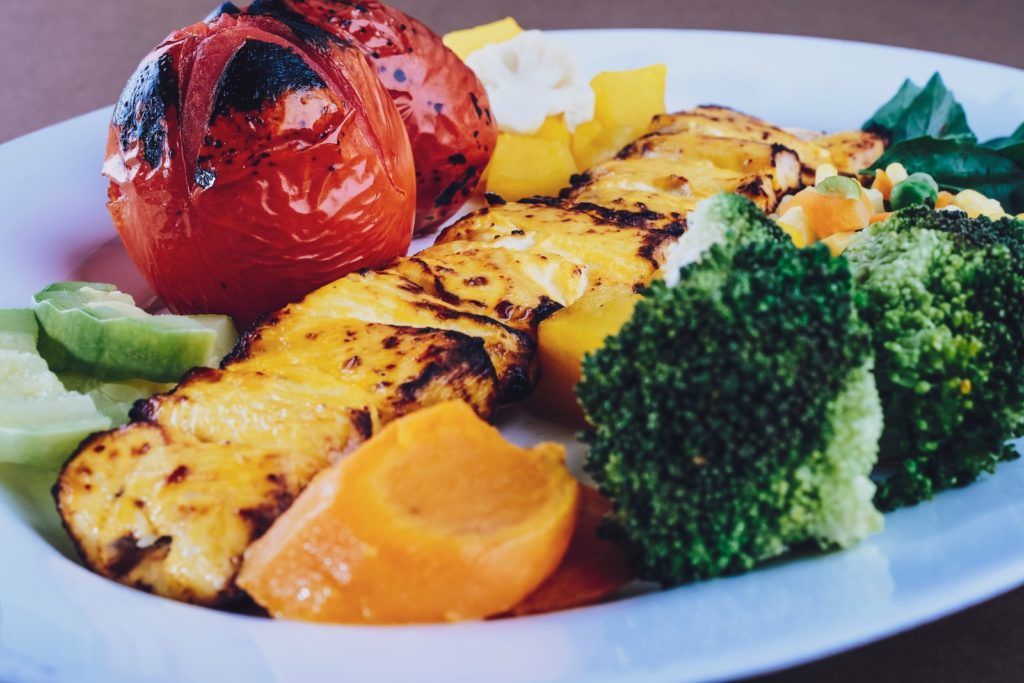 Griddled veggies are so delicious. You can griddle just about any vegetable, including; zucchinis, onions, tomatoes, bell peppers, eggplant, and mushrooms.
You can grill them whole or cut them into smaller pieces so they cook fast and evenly. Flip them as you cook to prevent burning on one side.
Griddled Broccoli
Broccoli is a delicate dish and can quickly get soggy when overcooked.
Slightly boil and chill the broccoli.
Brush a little olive oil on a hot grill and place your broccoli
Throw in some salt and preferred seasonings
In less than 10 minutes, your broccoli will be ready.
A griddle makes broccolis succulent and crispy and enhances its natural flavor.
Griddled Asparagus
Asparagus cooks for about 3 to 4 minutes on each side over a grill. You can top it with some lemon and salt.
The high heat of a griddle caramelizes this veggie, bringing out its natural flavor. The thin asparagus is the best for this recipe.
Griddled Salmon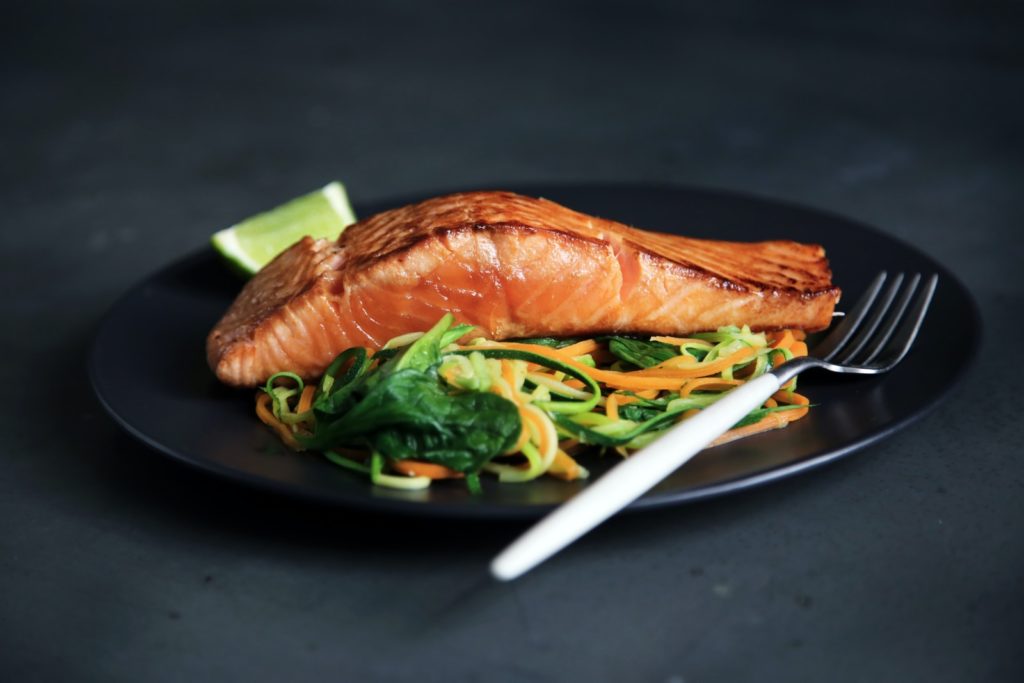 Are you looking for a quick, fresh, healthy dinner fix? Griddle salmon is a perfect choice. A griddle helps lock in flavor and moisture as the fish cooks, giving you a crispy outside and a soft inside.
Season your salmon with salt and pepper
Fire up your grill and brush a little oil
Place the fish on the cooktop and cook for 3 to 5 minutes on each side
Garnish with herbs or lemon juice, and there you have a delicious healthy meal in less than 20 minutes.
Smashed Potatoes
Making parmesan-crusted smashed potatoes is straightforward. After boiling potatoes, add them to the grill and mash.
Add some garlic butter and sprinkle a little parmesan to get a nice crust with a crunchy outside.
Other Recipes You Can Cook on a Griddle
Quesadillas
Crab cakes
Waffles
Bacon
Naan bread
Griddle S'mores
Griddle Chili Dog
Mongolian BBQ
Griddle Steak
Griddle Pork Chops
Frequently Asked Questions
What foods are best cooked on a grill?
A griddle is perfect for making breakfast foods such as pancakes, cheese sandwiches, bacon, French toast, and eggs. It is also great for dinner recipes such as steak, fried rice, and grilled chicken.
Can I cook steak on a grill?
Yes, you can cook steak on a griddle, irrespective of its size or model. Set your grill on high heat so that your meat can cook thoroughly. Also, flip the steak every few minutes to ensure it doesn't burn on one side.
Is griddle cooking healthy?
Griddle cooking is a healthy technique used to prepare various breakfast, dinner, and outdoor recipes. The food does not come into contact with flames, and you only need little or no oil to cook.
Can you cook chicken on a griddle?
You can cook a variety of chicken dishes on a grill. They include: Chicken tenders, breasts, wings, quesadillas, fajitas, and BBQ chicken.
Wrapping Up
Grills are not meant for breakfast recipes only, but you can cook almost everything on a griddle surface. The everyday griddle breakfast meals include; pancakes, French toast, burgers, bacon, and eggs.
You can make steak, chicken, salmon, cheesesteaks, quesadillas, fried rice, mashed potatoes, and naan bread for dinner griddle recipes. The possibilities of what to cook on a griddle are nearly endless.