Blackstone never ceases to amaze me.
They are always at the forefront of meeting our culinary needs and solving our problems. Can you imagine griddling, roasting, baking, and frying all in one appliance?
That is what the Blackstone Air Fryer Griddle combo offers!
The Air Fryer combo is a recent invention that has taken the market by storm. Is it worth it? Or can I just stick to the Blackstone without Air Fryer? Let's find out.
Blackstone With or Without Air Fryer: Is It Worth It?
The Blackstone Griddle Air Fryer combo is undoubtedly worth it! The convenience of frying, baking, and roasting outdoors in one place is worthwhile. Moreover, it offers the option of keeping food warm in the drawers.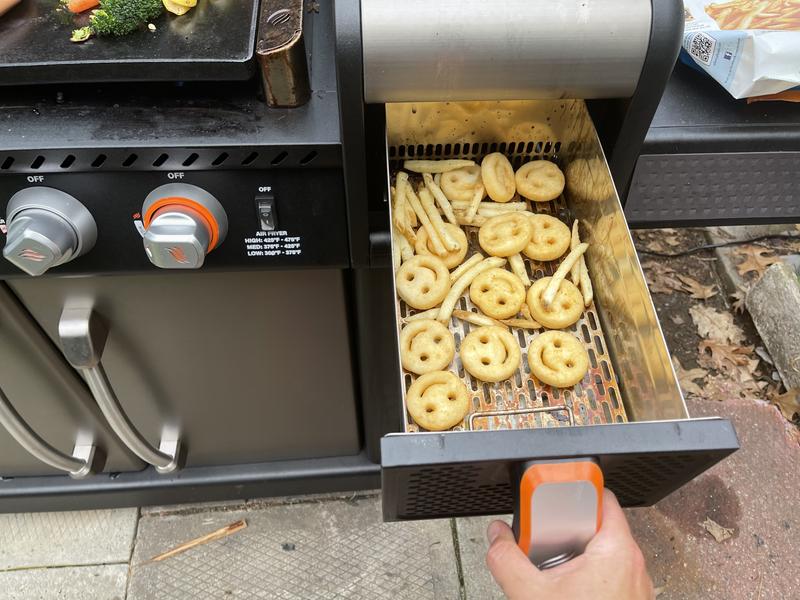 What is an Air Fryer, and How Does It Work?
The air frying technology makes it possible for food to mimic the texture and taste of deep-fried meals. But, the notable difference is that air frying does not require a lot of oil like deep frying.
It works through convection, whereby hot air circulates around food while cooking it, the same way hot oil cook food in a deep fryer.
A fan helps circulate the air, thus, hastening the cooking process and promoting browning.
Cooking with air is a cleaner alternative to regular frying. Better yet, it gives a crispy texture to your fried foods.
An air fryer works just like a traditional convection oven, only that it is compact and more powerful.
It features spacious cooking baskets where you place the food you want.
Blackstone first paired the concept of air frying with their best-selling 36-inch griddle and later the 28-inch model.
This all-in-one cooking station aims at giving you a memorable experience of both culinary worlds.
The air fryer drawers are located below the flat-top grill. The two fryer drawers and the warming drawer are powered by an independent propane burner.
The heating element of an air fryer's fan is electric. And since Blackstone uses propane as its power source, there is a dedicated propane burner for the air fryer.
The propane supplies 13,000 BTUs of power to the air fryer, giving it superior cooking power.
Why Should You Purchase a Blackstone Griddle with an Air Fryer?
Convenience
The air fryer combo offers the full features of the original 36-inch griddle plus the extra benefits of frying, roasting, and baking.
Besides, you can cook all your favorite dishes simultaneously on the same appliance. This combo eliminates the need for a separate convection oven or air fryer. You can coordinate all your cooking in one place.
The air fryer combo has a magnetic bar and side shelf tool hangers to keep your cooking tools neat. It also has a hood over the flat top and folding-down shelves for easy storage.
Ability to Cook a New Array of Foods
Are you having a backyard party? The Griddle Air Fryer Combo will keep your guests entertained with various foods.
Use the flat-top grill for cooking steaks, hotdogs, burgers, and toast buns. At the same time, cook your fries, jalapeño poppers, wings, baked potatoes, onion rings, or chicken nuggets in the air fryer.
Versatility
Besides the massive griddle top, the air fryer comes with two large cooking baskets. As a result, you can cook enough food to feed a crowd in minutes.
You will love the capacity of this griddle combo. It outshines the regular home-based air fryers.
It comes with two dedicated frying baskets and a warming drawer.
Is Air Fryer Food Healthy?
Yes, air-fried food is very healthy. Blackstone designed their air fryers with healthier cooking in mind. Food cooks in hot air rather than oil. You only need to spritz a little oil on your veggies or rub the cooking baskets with some oil or butter before cooking.
Either way, air-fried food cooks in far less oil than pan-frying. It also turns out nicely browned, crispy, and delicious. A spray bottle is handy as it allows you to limit the amount of oil you use.
Although air frying is healthier, it would be best to do it occasionally rather than daily. Most processed, pre-made, and frozen foods have unnecessary calories, which are detrimental to your health if consumed daily.
Blackstone with or without Air Fryer: Comparison Features
What You Can Cook
You can cook a lot of similar foods on a griddle top and an air fryer. Meat and vegetables are the most common. The most significant difference comes in the crispiness and taste.
Air-fried food is crispier and tastes like deep-fried food. On the other hand, griddle food is moist mainly on the inside with a bit of crispiness on the outside.
A fryer cooks super-fast, thus ideal for cooking frozen foods such as chicken nuggets. However, some foods that are so easy to make on a griddle, like eggs and pancakes, are impossible on an air fryer.
The batter can mess up your air fryer big time.
Ease of Cleaning
The griddle cooktop is pretty easy to clean. You only need to scrape off the food residues, sprinkle some water and wipe off the surface with paper towels. You should do all the griddle cleaning by hand.
An air fryer is easier to clean. Since it uses little or no cooking oil, you will not have a lot of grease to clean.
The only time you can have grease is when cooking a bacon-wrapped meal. The rendered fats and oils drip into the basket while your food remains on the elevated cooking plate. Pour the collected grease on the griddle surface and scrape it off into the grease trap for safe disposal.
The fryer drawers and cooking baskets are dishwasher safe. The cooking platform beneath the baskets is also removable for easy cleaning.
Power Source
Like all other Blackstone griddles, the Air Fryer Combo uses propane as its primary fuel. This applies to both the air fryer and the griddle flat-top.
However, a distinguishing feature of this combo is that it needs electricity to power the air fryer fan.
The fan helps to circulate hot air inside the fryer to cook food. It requires a 120 VAC power outlet as it consumes about 125 watts. If you don't have electricity access, you can use a generator.
Heat Zones
The regular 36-inch Blackstone has four independently-controlled heat zones. The combo features a fifth burner for the air fryer.
Unlike previous Blackstone models, the air fryer griddle has an independent igniter wire for every burner. This feature promotes effortless ignition and allows you to light each burner independently.
Ease of Use
The griddle combo is simple to light up and use. The upgraded ignition system does not require a matchbox or lighter. It is fast, clean, and efficient.
First, connect the power plug to a socket. Then, ignite the dedicated burner and flip the switch to fire up the fan. You can start cooking immediately.
The griddle has a dial on the front panel for temperature adjustments and controls. The ideal temperature for most recipes ranges between 325 and 450 degrees Fahrenheit.
Frequently Asked Questions
Does the Blackstone griddle with Air Fryer need electricity?
Yes, the air fryer griddle combo needs electricity to power the fan. However, it uses propane to power the flat top and air fryer burners.
Can you add an air fryer to a Blackstone griddle?
You can purchase a dedicated air fryer if you already have a regular Blackstone griddle. You can also purchase the Blackstone griddle air fryer combo. It is more convenient and versatile.
How does the air Fryer work on Blackstone Grill?
An air fryer works through convection by allowing hot air to circulate rapidly around the cooking food. Air-fried food is crusty and tastes like it's deep-fried.
What can you cook on a Blackstone Air Fryer?
An air fryer is ideal for cooking French fries, jalapeño poppers, chicken wings, and baked potatoes. You can also make onion rings, veggies, chicken nuggets, and whole chicken.
Wrapping Up
You can never go wrong with a Blackstone griddle, whether with or without an air fryer. Nevertheless, Blackstone with an air fryer combo is a worthwhile investment.
It is an all-in-one culinary unit perfect for grilling, roasting, frying, and baking. Although it costs about $300 more than the standard griddle, the convenience and cooking capacity it offers are worth it.